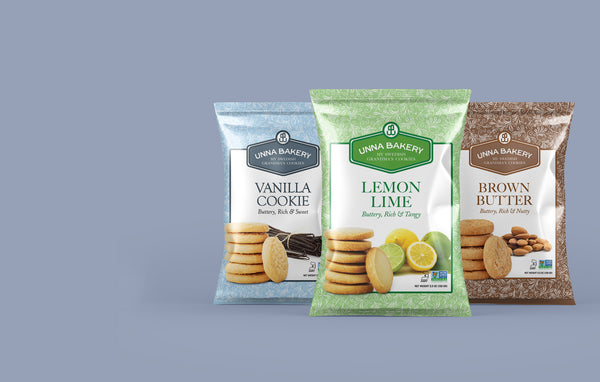 Unna's buttery lemon shortbread cookies
My Grandma and her love for baking
and butter cookies inspired me to start
Unna Bakery. Basic, high quality
ingredients and never palm oil, soy
or preservatives. Buy them online here!
NON-GMO & KOSHER CERTIFIED
buy here
MY GRANDMA RUT's Butter cookies
It was my Grandma's love of baking that inspired me to start Unna Bakery. She made the best cookies and she taught me how to make them in my early childhood.
OUR STORY
Coconut Oat Butter cookies wins in Great Taste!
Words from the jury:
The simplicity of this biscuit is lovely. The recipe and the bake are exceptional. Unlike anything else on the market. Straightforward and honest without any superfluous ingredients.
SHOP NOW
Love, love, love the Raspberry Jam Drop cookies. They are fresh and are the perfect texture. The buttery cookie complements the dollop of raspberry jam extremely well. These cookies are like a symphony for your mouth. Two enthusiastic thumbs up!
C5Kev
This is THE best bakery in the world....great recipes. And stunning customer service. I know that the cookies are baked with love which is why I chose to send some to my cousin in Texas who is battling severe winter storms along with lack of power, heat and food. Swedish butter cookies for the win!
Joann Lowrie
Such DELICIOUS cookies!!! Just the needed treat in these stressful times! I can't even decide which type is my favorite, love them all!!! (well, o.k., maybe Ginger Snaps, but they are nothing like the usual boring ginger snaps). But it's hard to choose.
Margaret Klocinski